My creative objectives have been been going…at a sloth's pace.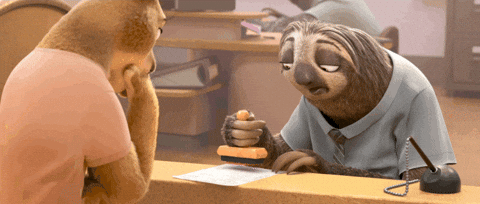 But it's going!
There was NO WAY I wasn't going to be drawing some Rogue One fan art after seeing it several times since its opening night. And, I admit, I came in with neutral expectations. What with my social media feeds, obviously I…thought it was OK.
I mean…
Oh who am I kidding! Leading up to opening night I was already drawing Jyn Erso – and even more so after watching the movie.
This year is also the year I break into this shmancy little leather-bound sketchbook. Told myself I'm going to fill it up…because…what else am I going to do with it? Get in there, Chirrut. Even if you were colored with bargain markers (I was warned that shmancy paper is an ink-sucker).
But, oh, do the better ones look oh-so-good.
Since we're using supplies I haven't used or used much, I've pulled out the watercolors.
What were the chances that I'd draw any other droid that isn't BB-8?!
There was no way I was going to pass up getting in on the ROUGUE ONE gags.
If you couldn't tell already – Jyn Erso seriously took over my Star Wars drawing obsession. Sorry Kylo. Haha, just kidding.
Want to see me be one with the Force? Come on by my Instagram and Twitter!